Special machines

In addition to our standard program, we also manufacture customized machines - entirely according to your wishes. Special and custom machines have also been part of our delivery program for a long time.

Regionality

We produce exclusively in Germany.

Service

Service, service and service again. Spare parts arrive overnight or - on request - on the same day by courier.

Quality

We do not produce a machine "off the shelf!" KOLB machines are carefully designed and solidly crafted.

Synergy effects

The cooperation with Burkhardt-Löffler provides us with synergy effects and real added value for our customers. Together we offer the complete product range for modern stone processing plants.

Long life

KOLB machines are protected against corrosion. Machine frames are hot-dip galvanized; belt guide plates, guard plates and screws are made of stainless steel. (V2A)

Focus on customer

KOLB builds machines for practical use. The development comes from mechanical engineers who communicate with customers and immediately implement customer suggestions for improvement!

Service contracts

Machines need care and maintenance. You can assign this work to us under a maintenance contract. We carry out inspection, maintenance and repair work at certain intervals.
Member of Dr. Baumann Corporate Group
Exploiting synergies
As part of the Dr. Baumann Corporate Group, we benefit from decisive synergy effects. The group of companies allows us to ensure short development and production times according to the needs of our customers. In addition, the financial strength of the group, with annual sales of approximately 80 million euros, guarantees the long-term orientation of our company and the financing of major investment projects. The group produces at 10 locations in Germany in the areas of mechanical engineering, steel construction and metal construction with over 400 employees on a total of 60,000 square meters of production space. Our primary objective is to develop optimum solutions for our customers.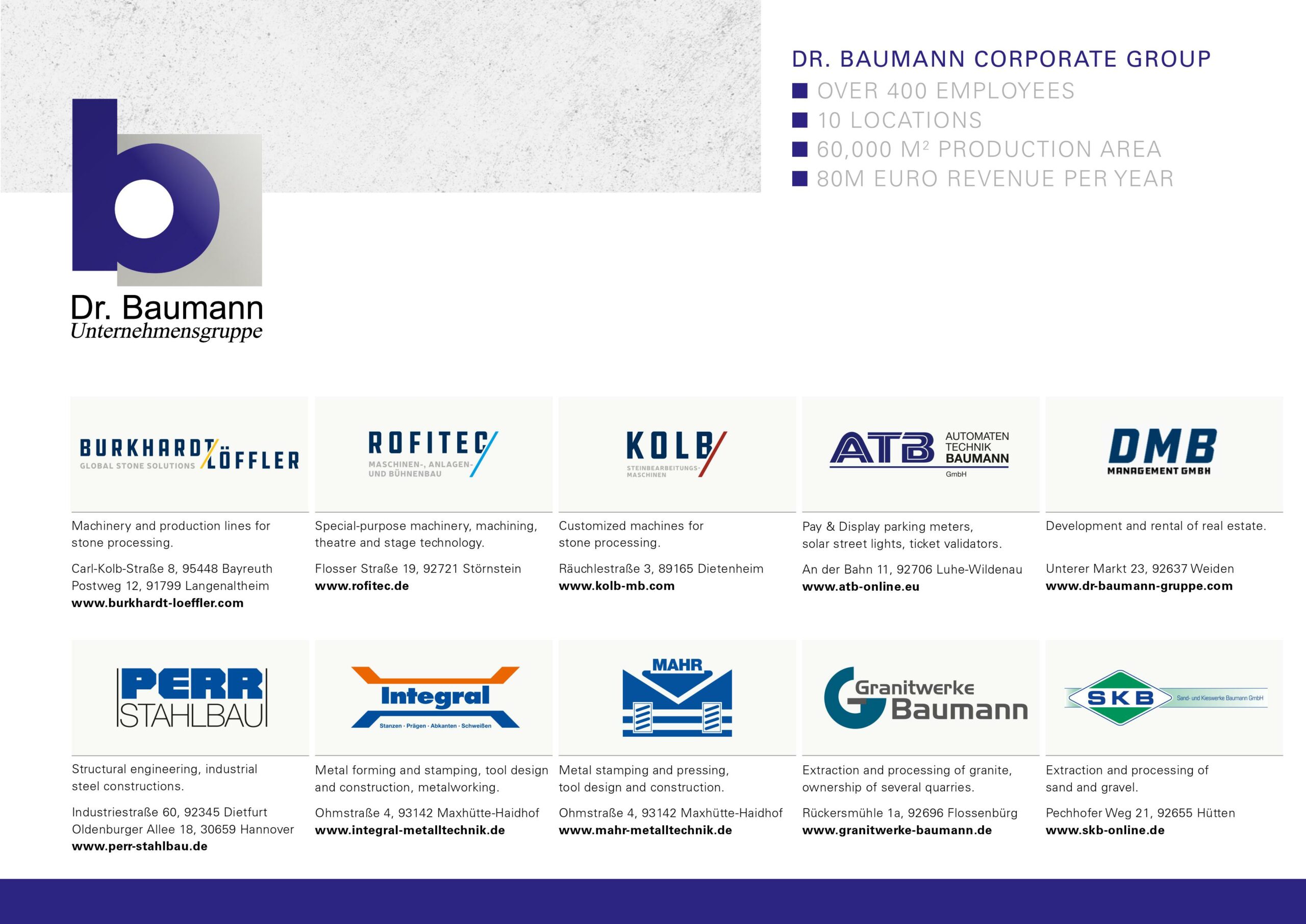 We are your reliable partner with a comprehensive service portfolio in the field of stone processing.